Vein Treatment Center in Crystal Lake, IL
At Illinois Cardiovascular Specialists in Crystal Lake, IL, we provide patients from all around Barrington and Lake in the Hills, IL, proven procedures to treat venous reflux disease, as well as varicose and spider vein conditions.
Our proven treatments include:
Varicose Veins & Spider Vein Treatments near Cary, IL
Veins are blood vessels that carry deoxygenated blood from the tissues back to the right side of the heart to be re-oxygenated. There are superficial veins that run right underneath the skin that function by having one-way valves and there are deep veins that function using a pressure gradient system.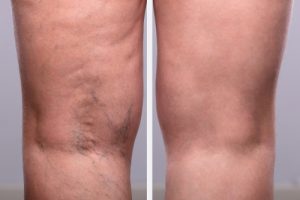 When superficial veins develop dysfunctional valves, we use the term venous insufficiency to describe the situation. Venous insufficiency can be diagnosed with a simple ultrasound of the legs.
Common vein conditions include:
Varicose veins are swollen veins that appear in patients who have venous insufficiency. The dysfunctional valves cause the pressure in the superficial veins in the legs to rise and this causes varicose veins to appear.
Spider veins are smaller than varicose veins. They are typically red, purple and blue vessels that are visible through the skin and are typically on the legs and feet.
Venous Reflux Disease refers to venous insufficiency.
Patients that develop venous insufficiency may also develop a variety of symptoms. The symptoms can include but are not limited to pain in the legs, cramping at night, dependent edema, swelling, restless legs, itching of the skin, skin breakdown or venous ulceration. Patients may also experience significant discoloration of their legs, with erythema (increased red discoloration) and/or purple or blue discoloration of the ankles and feet.